Avana Flooring is a Mobile Carpet Shop based in Swindon, Wiltshire. We supply & fit carpets, vinyl flooring, laminate flooring, LVT & wood flooring.  
We cover the following towns and all areas in between: Calne, Chippenham, Cirencester, Cricklade, Faringdon, Highworth, Lambourn, Lechlade, Malmesbury, Marlborough, Royal Wootton Bassett.
By combining our innovative approach to service, meeting and exceeding the needs of our customers and by dealing directly with our suppliers we achieve the most competitive prices.
Book your free home flooring consultation here
What could be better than having a friendly professional come to your home and guide you through the process of finding the perfect flooring We are available to offer you a free home flooring consultation to help you start your home transformation. We will talk you through our samples, measure any areas where you are looking to have new floorcoverings and offer you a free no-obligation quotation. It is the only way to upgrade your flooring!
Book your free home flooring consultation here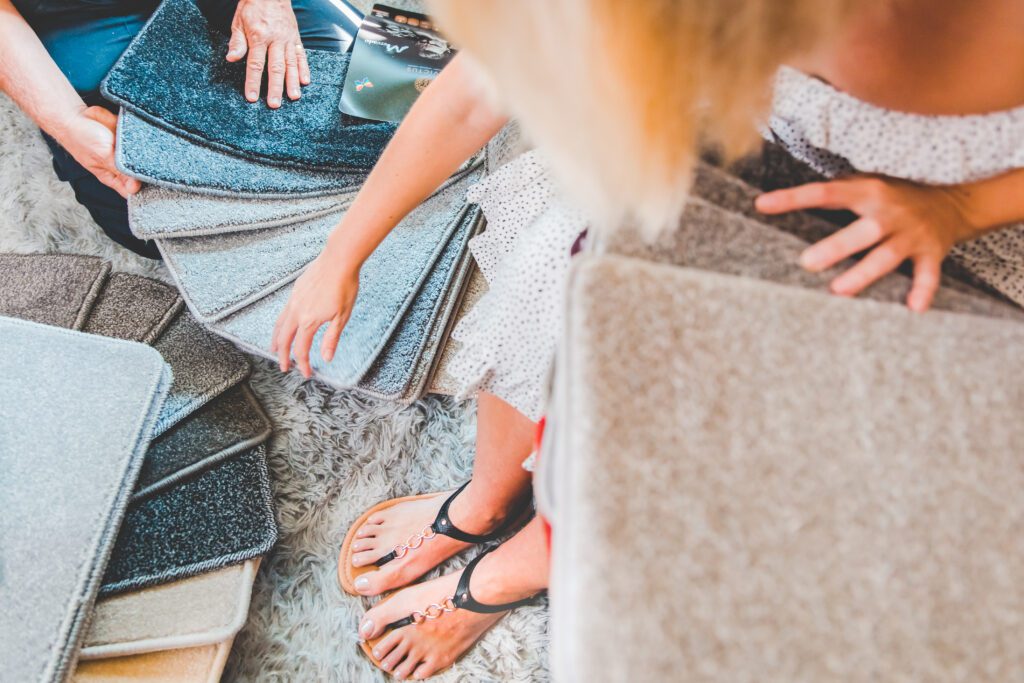 Why is carpet so popular?
Your feet say carpet, but your head says hard flooring. Many flooring experts and interior designers say that carpet is rising in popularity because recent innovations make them hold up to traffic and stains much better than their counterparts of decades past, Look at the video below to see just how far carpets have developed recently.
How can you tell a good quality carpet?
A good indicator is the denser the carpet the better the quality. You can easily check the density of a carpet by trying to press your fingers through the carpet and trying to reach the backing. It will be difficult to reach the backing of a very dense carpet.
Which brand carpet is best?
Every brand that we sell has unique attributes. When you purchase a branded carpet, you are buying a quality product, from a brand that is well known and trusted. By offering a variety of brands we can provide you with a greater choice of colour, pattern, material and quality to suit your needs.
The standard width of a carpet in England is 4.00 metres; however, some styles of carpet are produced in widths of 2, 3, 4 and 5 metres.
Is carpet making a comeback?
Carpet is making a comeback. Mainly due to the latest manufacturing technologies, which make it softer and more durable than ever. While grey carpets are on-trend, the newest styles are also available in a broad range of spectacular colours. Watch the video below to see a simplified version of how many of our carpets are manufactured.
Do you need a special vacuum cleaner for different styles of carpet?
For low cut pile carpets, we recommend a vacuum cleaner with a rotating brush that agitates the pile and loosens the dirt for easier maintenance. When vacuuming a loop pile or Berber carpet, we recommend that you turn the brush off. For thicker carpets with a higher pile, the height of beater bars should be raised.
Do I need underlay with my carpet?
Underlay is not an optional extra, it is a vital part of your new flooring that changes how your flooring will feel, wears and look. The right underlay will increase the comfort level of your flooring, as well as the lifespan of the carpet by approximately 50%. It also acts as a shock absorber ensuring your flooring remains looking and feeling fabulous.
Old underlay is much more likely to show signs of wear and tear, especially in a high traffic area of your home such as a hallway. It can cause ridges, make the carpet wear unevenly and harbour dirt and dust. 
How often should carpet be replaced?
Some signs that a carpet needs replacing can be seen below:
– Staining
– Wear and tear
– Uneven and 'gathering'
Is carpet a good investment?
A high-quality carpet will save you money on heating bills, due to its heat retention and insulating properties. If you want your home to look beautiful and inviting then your new carpeting is going to add to the value of your home. 
What is a good price for a carpet?
If you are looking to give your room a fresh, updated look, having a new carpet fitted will make all the difference. It is a quick and easy way to transform the space.
The cost of a new carpet can vary hugely, as there are several factors to consider. The material, the durability, the quality of underlay and the fitting are to name a few. Why not let Avana Flooring carry out a free home flooring consultation and give you a free no-obligation quotation.
Based on a room size of 4m x 4m:
· You can have a new medium grade carpet, underlay, any accessories and fitting from £216.
· It is possible to have a light grade felt back carpet fitted without underlay, which starts at £168.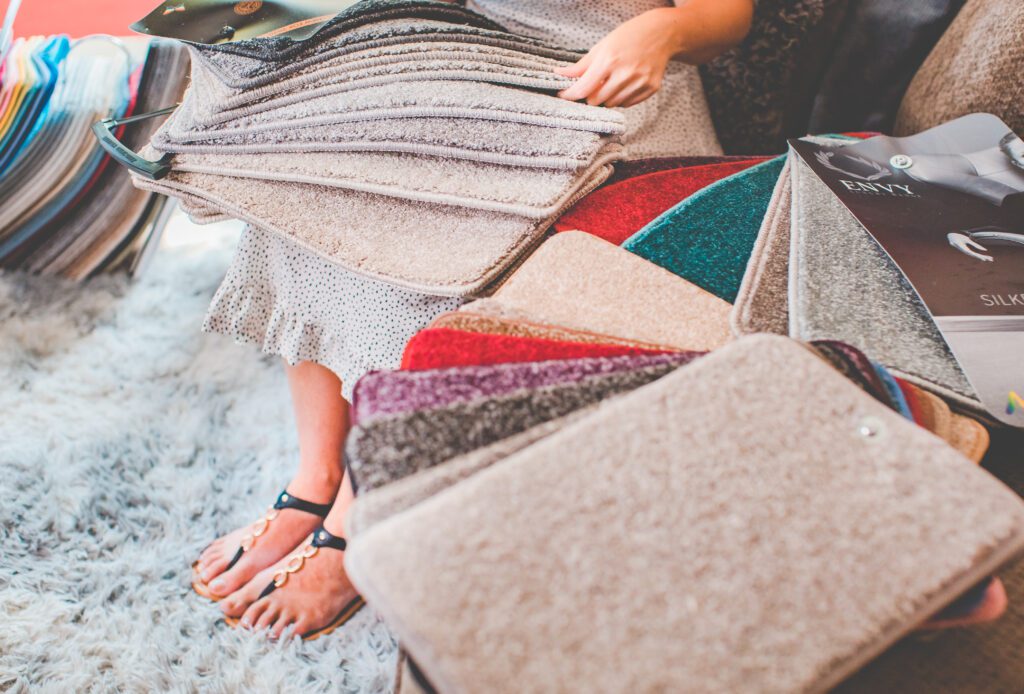 How much does carpet fitting cost?
£4.50 m² is the price for fitting a carpet in a room, which means an average 3.5 x 4 m room will cost £63 for fitting. There is an additional charge for fitting carpets on the stairs, depending upon how intricate and technical the staircase is.  
While you can install your carpet, it is a difficult job for a novice. In most cases, it is easier to pay a professional to install the carpet for you because you will end up with less hassle and a quality job in the end. 
Why can the colour of the carpet look different at home?
Ambient lighting can change your perception of carpet colour, making it look like some areas are lighter or darker than other areas. During everyday use of a carpet, the pressure on a carpet pile causes it to lay in different directions creating the effect of "shading".  
Will the colour of my carpet fade over time?
Carpets can slowly lose colour over time when exposed to direct sunlight, although some carpet colours will show this more than others. Darker coloured carpets will show this more than lighter coloured for example.  
You can see footprints on my carpet, is it faulty?
Carpets with a deep pile will inevitably show footprints. The colour of the pile will have a different appearance on the side to that seen on top. Light and dark patches will be visible depending on the angle of the pile to where you are standing or seated within the room. This is not a fault, but a characteristic of a deep and luxurious carpet.
What is the hardest wearing carpet? 
There are a variety of carpet types. Twist piles, Saxony carpets, loop / Berber carpets, stripey and patterned and wool carpets. We have listed the types, with the benefits of each for you to decide what suits you best.
Twist carpets are durable, resilient and practical, which makes them a popular choice. They do not show footprints, vacuum tracks, or furniture marks, and are great at hiding dirt. They are a good choice for areas with heavy foot traffic and for families with pets.
Saxony carpet is a cut pile carpet with long tufts. Its pile is designed to be incredibly dense, for a softer feeling underfoot. This makes it popular for bedrooms and living rooms. They have a velvet-like appearance, which is created by tightly twisting the carpet fibres, cutting them, and then heating them so they stand up straight.
What is a Loop / Berber carpet?
Berber carpets are the perfect choice for those looking for a hardwearing and stylish option that will last. These can be extremely durable, with stain-resistant properties. Manufactured using loops of yarn, to give a smooth yet textured finish that is bleach cleanable for easy maintenance.
Why choose a stripey or patterned carpet?
Striped carpets are the perfect choice for those who want to make a bold statement. Ideal for stairs and hallways, as well as other rooms in your home, our contemporary collection of stripes, will leave you spoilt for choice.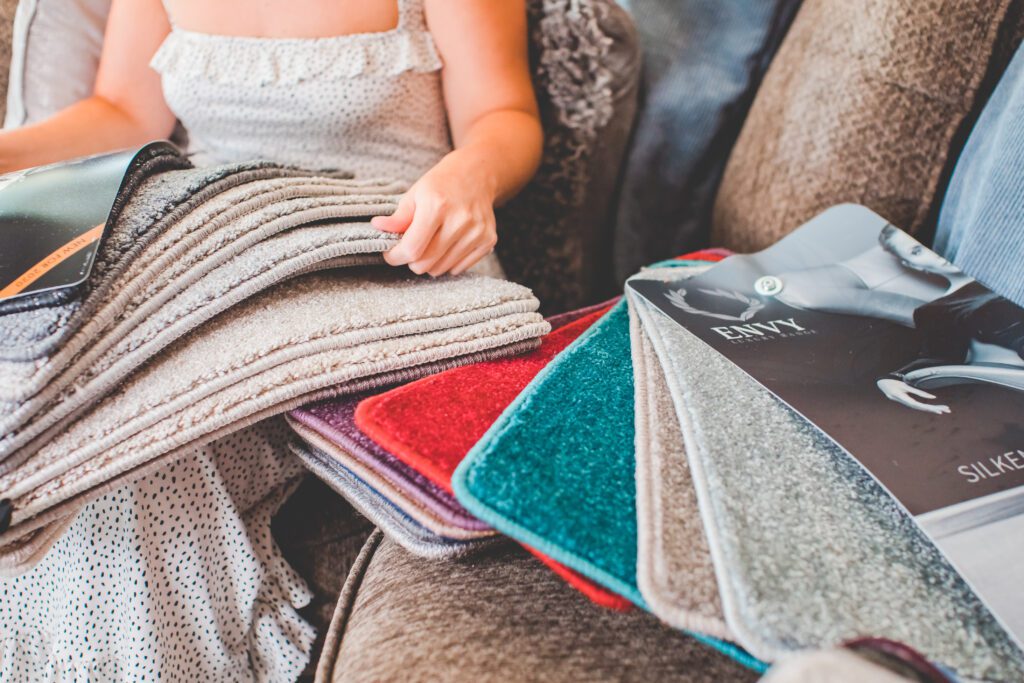 Why choose a wool carpet?
Wool carpets are known for their quality because wool is naturally tough, giving you the luxury that lasts for longer. Wool provides superior comfort underfoot whilst at the same time insulating your home and helping to reduce energy consumption. It absorbs sound to give a sense of calm and is naturally fire-resistant too. The natural waxy coating on wool fibres makes wool products resistant to staining and a wool carpet will also pick up less dust as wool is naturally anti-static.
What is normal wear and tear for my carpet?
Over time your carpet is likely to show signs of general wear.
It is important to choose the right style of carpet for your requirements to ensure longevity. We recommend you purchase a new underlay when buying a new carpet as it can prolong the life of your carpet by up to 50%.
Saxony carpets: it is normal to see slight flattening as this naturally occurs with daily use and weekly vacuuming. It should however still retain its luxurious appearance.
Loop pile carpets can suffer from the flattening of the pile. However, its fabulous stain and dirt resistant properties ensure that it looks great over time.
Polyamide / Nylon carpets can withstand high levels of traffic with little impact. The manmade fibres are super resilient and hold their colour well.