Dining Room Laminate Flooring in Swindon
The Carpet and Flooring Shop that comes to you in Swindon
Are you looking for a new dining room laminate flooring in Swindon? We are the carpet and flooring shop that comes to you in Swindon, bringing with us as many samples as any high street flooring store. We have ranges of laminate flooring to suit every taste and budget. So why not select your dream carpet, laminate, Luxury Vinyl Tiles (LVT), vinyl or wood flooring from the comfort of your home?
Laminate flooring is an ideal choice for busy homes due to its low maintenance and significant ease of cleaning. It is particularly suitable for all heavy-use rooms. It is practical and straightforward to fit and is available in different thicknesses and various realistic wood and stone finishes.
All our laminates are suitable for use as dining room flooring. However, choosing the best laminate floor for your home can take time with so many different types of laminate flooring, including colours, thicknesses, and designs. But, whether it is dark, grey or indeed natural flooring that you are looking for, without a doubt, we have it.
We cover Swindon and all the local villages, including  Blunsdon, Chiseldon, Purton, South Marston, Wanborough and Wroughton.
Laminate Flooring FAQ's below: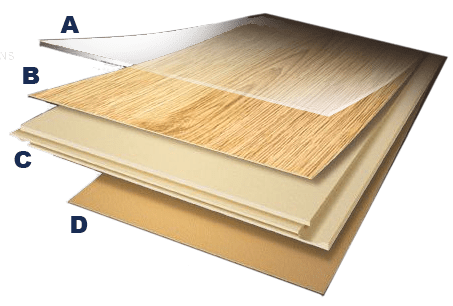 What is a laminate floor made of?
A laminate floor is a layered floor, with most laminate floors consisting of four different layers, as the illustration above shows:

A - The top layer makes your floor resistant to stains, wear, impact, scratches, burns and household chemicals. It consists of several melamine layers pressed onto the HDF core board in a press under high pressure and temperature. The surface layer is finished with a wood or tile texture/structure called 'registered-embossed'. This undoubtedly means that the surface structure is perfectly harmonious with the design.

B - The second layer is the design layer, which defines your floor's authentic look. The design layer is a high-resolution photo of natural wood or tiles reproduced with highly sophisticated printing techniques and finished with melamine resin. The perfect design and surface structure make the wood or tile imitation look significantly real and natural.

C - The third layer is a high-density core board consisting of refined wood fibres and high-quality melamine resin. It is a re-composed wood-fibre board which essentially uses all parts of the tree. Furthermore, the board is very homogenous in composition and has very technical characteristics. It's exceptionally durable, stable and has markedly highly moisture resistancy.

D - A moisture-resistant backing layer guarantees a perfectly flat board that will not cup or bow when properly installed and maintained.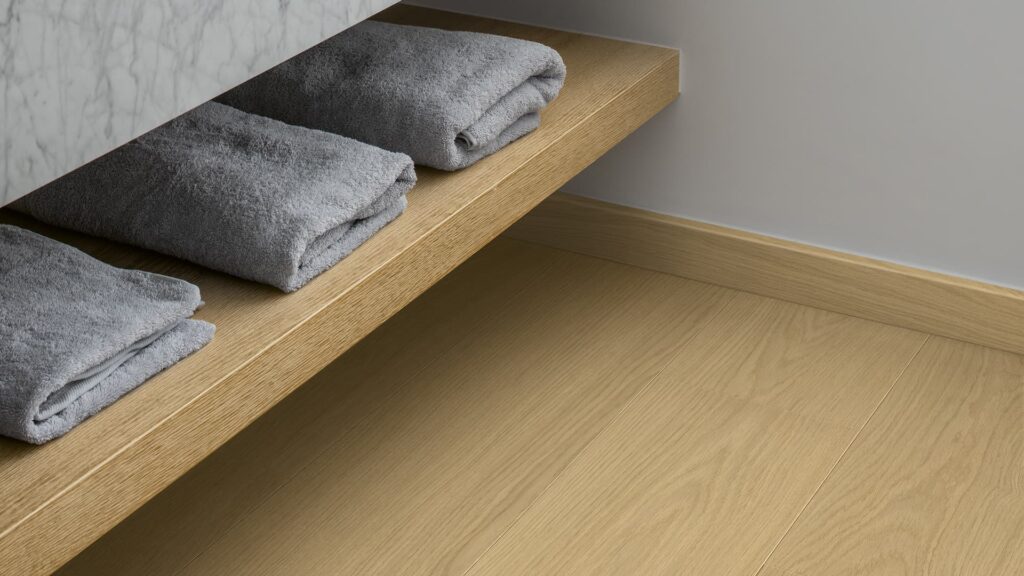 Why Choose Laminate Flooring?
Laminate flooring can now be used in every room in the house. Even for kitchens and bathrooms, there are waterproof options with extra protection.

Laminate flooring can cope with scratches, playing children, stiletto heels, the shock of heavy, falling objects and even scorch marks. At the present time, modern laminate floors are so hardwearing that they are increasingly fitted in public places with high footfall.

Even the texture of natural timber, such as the knots, cracks and flaws, can be perfectly simulated in laminate flooring. You can choose every type of timber in nearly every possible shade and plank dimension.

Thanks to the protective top layer, laminate floors are effortless to keep clean. Dirt cannot penetrate the wood, and a regular clean with a dry or lightly dampened fibre cloth will suffice to keep your floor in perfect condition for decades.
Fitting Laminate Flooring in Swindon
Once you have chosen your new flooring, our fitting partners take over. Additional services are available to help get an unquestionable perfect fit. From fitting your new laminate flooring with underlay and accessories to moving the more oversized furniture items, finally, maybe even uplifting and removing your old flooring.

All of our laminate floors carry a manufacturer's warranty. At Avana Flooring, we are especially confident in our fitting partner's service that we offer a 12-month installation guarantee.